This fall/winter has been one of the most bipolar seasons out there. However, fall is here and winter is approaching. Therefore, it is my time to shine. Mink season is my favorite time of the year. there has been a numerous amount of trends, however, I'm going to state the trends I wear and how I would wear them.
Animal Print 
Animal Print has been shown in the runway from Balenciaga, Marni,and Maison Margiela. My favorite animal print would be the snake-skin print. As well as, the leopard print. The only thing to avoid when wearing animal print is that you cannot pile it on. Animal print is a statement piece and should be balanced out with other pieces.
Business Wear
This fall and winter are all about business wear. The most amazing part about styling business wear is that you can turn a basic outfit into an outfit that portrays that you've been a lot of effort in to. A perfect business suit is a must for this season. the amazing part about is that you don't have to wear the suit all at once.
Blazers is huge! you can pair that up with some jeans and a basic-tee and a blazer with some ankle boots and be out the door in less than 10 minutes. For some trousers, you can simple but on a knitted sweater and sneakers with trench coat and be out.
Not only do you need to have a business suit, but as well as just business wear. One of my favorites is the button downs that are always in style. Many stores have been doing mix matched patterns on button downs and I am dying over this trend. A button down will make an outfit more sharp compared to a basic tee. I prefer oversized button down shirt because it is more comfortable and airy.
Booties
BOOTS ARE MY FAVORITE! Fall and winter are known for boots. The necessities for this season is to have a least one ankle booties and high knee boots. These are the basics for fall and winter, however for ankle booties, you should have an edgy sale with it. For example, get yourself some studded boots or have yourself some animal print shoes because those are very trendy and a great statement piece.
High-Knee Boots are shoes you can never go wrong with. You wear those bad boys with jeans, a sweater, and a statement coat and be comfortable but cute.
Statement Coats 
This is the season for statement coats as well. Especially if you're running around everywhere, a coat can save your outfit. You guys should know from the t=introduction of this post that mink coats are a must. This statement coat keeps you warm as well as cute. Many celebrities wear mink or fur and helps you look fabulous for the winter.
Puff coats are a must for street wear. Not only are they such a comfortable coat to wear, they also put an edge to your outfit. This season there are two ways to have a puff coat, there is the cropped puff coat and the long puff coat. you can pair some sweats, a tank top tucked into the sweats, sneakers, and a puffer coat and be stylish as fuck.
This slideshow requires JavaScript.
Neon Colors
Neon colors have been in for this winter and I have not been against it. winter has a lot of dull colors, and a hint of color will really brighten up your outfit. Especially if you want to be seen, this trend for you is a must. This means you can have some neon on your coat, pants, shirt, or even accessories and really spice up that outfit from a 5 to an 8 with two seconds. I suggest neon yellow and pink.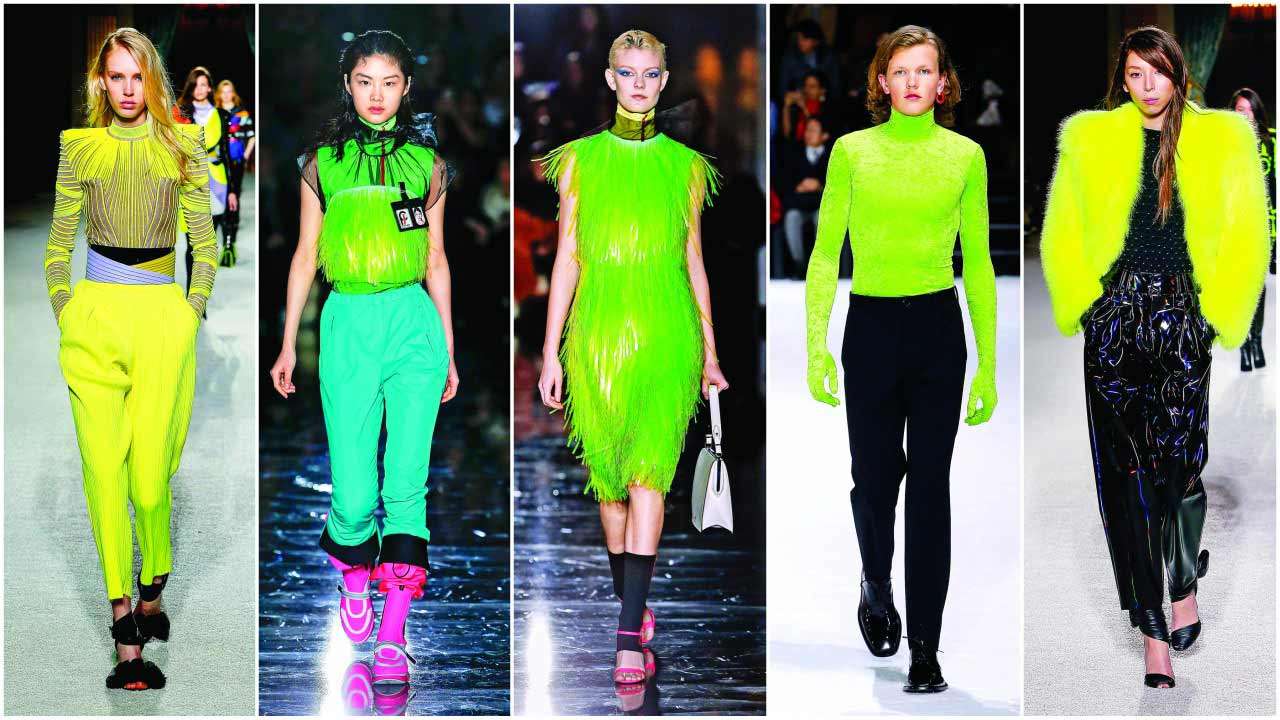 Sneakers 
Chunky sneakers are trend and I'm for it. If I don't have to wear heels, I love this trend. Balenciaga is known for those chunky shoes. You don't have to buy designer shoes for these trends, there are many stores that off similar shoes without that designer name. One of the shoes that I have  that I suggest are Jeffery Campbell sneakers.
Hand Bags
Mini bags have always been something I love. Cute small accessories are always a plus. Especially when that means less baggage with me. Many celebs from the Kardashians to Cardi B have been spotted with mini bags and have rocked this trend. You can never go wrong because even these mini bags are a great statement piece to wrap the whole outfit together.
Look out for boxed bags, they are a must have for this fall/winter! As well as, circular shaped hand bags.
Plaid
Plaid is a great trend for you to rock. This pattern is great for plaid coats, plaid skirts, or even plaid sweaters. Plaid is great for the winter and great to pair up with a basic outfit. Plaid coats, itself are a trend for this season and like stated before, statement coats really spice a basic outfit into an outfit that is sophisticated.
Thank you loves for taking your time and checking out my blog and this blog post. Don't forget to subscribe to my website and follow me on my social media, which is located on my side bar! Have a great day loves and be proud to be you!
XOXO,
Ana Fucking Toledo